28th August 2019
For those who don't know, Lush was established in 1995 when testing on animals for products was the norm. Founders, Mark Constantine, a trichologist (hair doctor), and Liz Weir, a beauty therapist were both very passionate about creating fresh, handmade effective ingredients. One thing that was important to them was that all ingredients had to be ethically sourced and free from animal testing.
3 years later they opened their first store in Belfast. Lush was originally located in two different premises in Castle Lane but the size of these were a lot smaller compared to the demand for their products – particularly at Christmas when they would have queues outside of the door. So, they relocated again but just on up the street on 27 July 2018 to a bigger premise, so it is all still quite new.
We sat down with one of the supervisors, Lace Scott to find out more about the products sold and things you may not have known!
Tell us more about the products and services you sell / offer Is there anything special add-ons that customers receive when they come into the store?
Consultations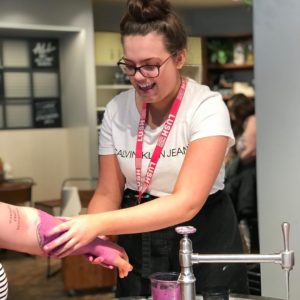 What we are passionate about is giving completely tailored, VIP, 5-star experience consultations to every customer who comes through our door. We tailor our consultations to each individual and their specific needs, whether they need hair care, skin care or if they really just need something to cheer them up that day – we are always on hand to help them out. We offer pampering, luxurious demos of every single product you can imagine, so whatever a customer wants to try out we will help them do so in-store.
We can try scrubs, bath bomb demos, bubble bar demos as well as offering hand and arm massages. These massages are completely complementary. We sit down with customers in the body care section and carry out a consultation to establish what they need from a massage oil or lotion and what ingredients they could benefit from the most.
For example, we have a massage bar called Wiccy Magic Muscles that contains a lot of cinnamon and clove bud oil so if you tend to have quite achy muscles it's the one you want to go for. We also have another one called Therapy that has a lot of lavender and neroli oil in it which is very popular with pregnant women as neroli oil really helps with stretch marks.
Naked Products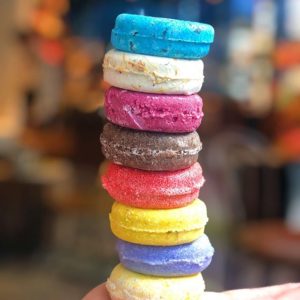 What's really fabulous in our store are the range of handmade naked products that we offer. These are solid products that are sold without any packaging except for an optional small brown paper bag to pop them in – almost like in a bakery. When they arrive to us in the shop they come in a recycled cardboard box with some recycled paper and then we completely recycle them again.
One naked product that has proven to be the most popular is the humble shampoo bar. It is one little bar that lasts 80 – 100 washes which is usually the same amount of washes you would get from 3 plastic bottles.
A fun fact about this product: Over the last 5 years, shampoo bars have saved 30 million plastic bottles from going to landfill. They are also ideal for travelling as they are so compact – great for your gym bag or even just your shower at home. They're just so convenient and easy to use.
We also sell naked facial cleansers, facial oils, solid shower gels, even solid scrubs – anything you would want packaging free we probably have! We even go as far as naked toothpaste, known as 'Toothy Tabs'. Usually the tube of a toothpaste product can't be recycled but Toothy Tabs are different as they come in a plastic bottle that is fully recyclable.
All the naked products are completely preservative free as they don't contain water so we call them self-preserving since they end up preserving themselves.
What products would you recommend / what's your favourite product?
A product range that I would recommend is the make-up range! London, Liverpool, Birmingham and ourselves are the only stores that currently stock it. The make-up that Lush sell is unbelievable, it's completely vegan,self-preserving and comes in minimal packaging.
We offer such an inclusive range of colours – 40 shades in the slapstick foundation and 44 lipstick shades. They contain some gorgeous ingredients such as extra virgin coconut oil from Nias, Indonesia and jojoba oil from Peru.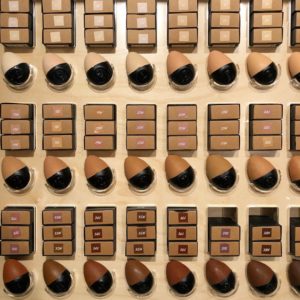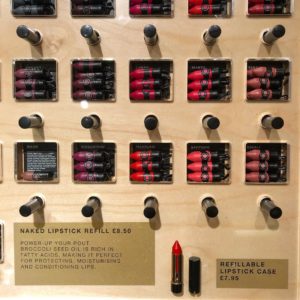 I absolutely love the slapstick foundation and the shade Tana is my favourite lipstick. It contains Lush's plastic-free shimmer which is made from seaweed and minerals so when it goes down the drain it is completely biodegradable.
Lush has always believed that make-up should be skincare as well so what you apply to your face every single day should be benefiting you simultaneously.
Is there anything we didn't know about this store?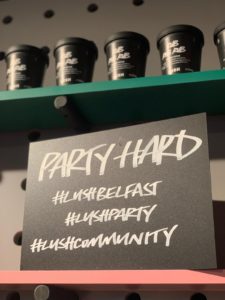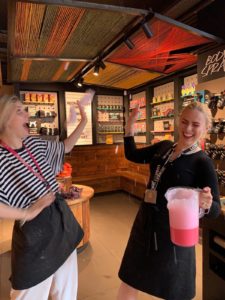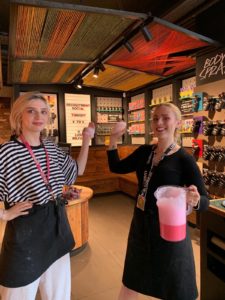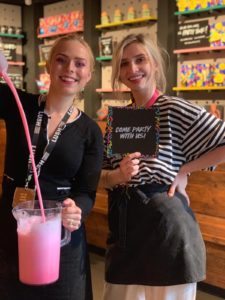 What some people might not know is that we offer VIP parties! We can do them any day of the week, for any occasion: baby showers, hen dos, stag dos, team building events, group workshops, we even booked recently for an entire girl guides group. The parties are an hour and a half, and they all include the making of a product which can be a bath bomb, bubble bar or a face mask! We strive to fully accommodate to each party's needs. You want a high energy party where we play games like bubble fights or make bath art from the bath bombs? Let's do it! Or maybe a chilled our pampering get together where we have full facials and arm massages? Sounds lovely.
We also have exclusive products that you can't buy in-store or online. The most popular one is the Calm A Llama Party Piñata bath bomb and when you pop it into the bath you get loads of popping candy, glitter and shimmer.
How much is it and how do customers book a party with you?
A party is £25 per person with a £5pp deposit and that includes everyone making a product and everyone taking home something. The guest of honour actually gets a whole gift set to take home! If it's your birthday you can even get your age in a bubble bar to use. You can pop into the store to find out more details and to book it.
What's next for this store?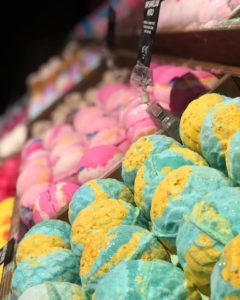 We currently have lots of new exciting plans for the future, some of which are secret and some are not. What I can tell you is that we have just finished planning for Christmas – it's going to be bigger and better than ever, with gifts to go under every tree in Northern Ireland!
Keep up with the latest news & new products by following Lush Belfast on social media: