4th July 2019
Situated right in the heart of Belfast City Centre, Orchid Thai Massage & Spa offer a range of quality Thai massages in a tranquil and relaxing atmosphere.
After gaining popularity in its Great Victoria Street premises, they decided to expand to Upper Arthur Street in 2017. Here they have enjoyed further growth in providing more treatments and package deals, especially for couples and large groups. They have also differentiated into other services such as nail treatments and threading, as well as offering traditional Thai foot and spa treatments.
We caught up with the one of the founders of Orchid Thai Massage & Spa to find out more about this modern, diverse business on Upper Arthur Street.
Can you tell us more about the treatments the spa offers in Upper Arthur Street?
The purpose of opening on Upper Arthur Street was to focus on tailoring to groups of two or more, particularly couples. Depending on the treatment package that the couple choose, customers will get to use the Romeo and Juliet suite, which is exclusive to this premises. This suite features private showers for him and her, a sauna, large Jacuzzi/hydrotherapy bath in a candlelit room. The couple can also choose from many uplifting sounds or listen to music directly from their own devices by connecting with Bluetooth to the surround sound speakers in the hot tub.
Couple Packages
We have two main couple packages that are tailored to this suite for couples to wind down and relax in:
The Romeo and Juliet Spa Treatment | Duration: 2 hours inclusive |  £180

The couple will both be treated to a 75 minute full body scrub and massage to start their treatment. This treatment also comprises of a private Hydro-therapy bath and sauna for the couple, including sparkling wine* and a chocolate delight.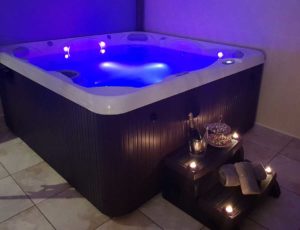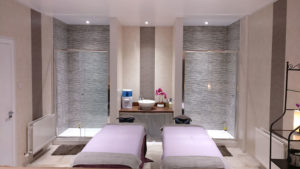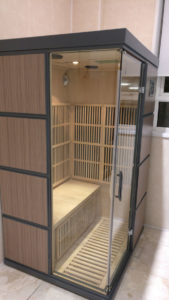 Treat for Two | Duration: 90 mins inclusive | £150
This treatment comprises of a relaxing 50 minutes massage followed by a relaxing dip in our private Hydro-therapy bath (Jacuzzi) and sauna along with a complimentary glass of sparkling wine*.

The total treatment time is 90 minutes.
The following treatment is not taken place in this suite:
The Romantic Couples Massage | Duration: 60 mins | £95

The couple are welcomed into the day spa and greeted with a complimentary glass of Prosecco in our luxurious Royalty high chairs before entering our traditional Thai room. They then go on to enjoy a 60 minutes full body hot oil Swedish massage together in our candlelit room whilst listen to relaxing world sounds.

Add body scrub +30 minutes for £35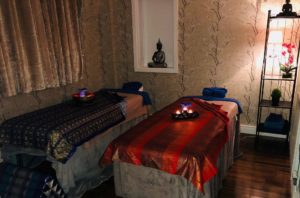 Other treatments for individuals
We also offer a range of treatments in this day spa to those who want to have some me time and relax by themselves.
Lunch Time Special | Duration: 20 mins | £20

This treatment is perfect for those who want to escape the office at lunch time between 12pm – 3pm for 20mins into a sea of tranquility and get a back and shoulder massage.

Neck & Shoulders also available for 40 minutes

Full Body Hot Oil Swedish Massage | Duration: 60 mins | £40

This is our most popular massage. The masseuse offers 3 levels of pressure (light, medium and firm) to suit the needs of the individual on a wide comfortable heated bed, carried out in a beautiful candlelit room to uplifting sounds to calm and relax them. For individuals that prefer deep tissue massage, we recommend Traditional Thai Oil massage.

Coconut or Magnesium Oil Option Available | Shower available | 40 / 90 / 120 mins also available.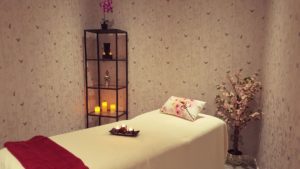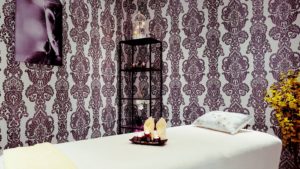 Traditional Thai Oil Massage | Duration: 60mins | £50

This treatment gives the individual the best of both worlds: a combination of stretches and massage. The treatment begins with a Thai massage which involves a blend of passive stretching, and pressing massage movements,  followed by an oil massage to relieve stress, tiredness and leave feeling refreshed.

Body Scrub and Massage | Duration: 90 mins | £65

This treatment consists of two parts: a cleanse and a massage. Firstly, the individual's skin is re-energised with a deep scrub, removing dead skin to leave skin feeling fresh, revitalised and glowing.

After the body scrub the treatment is completed with a 70 minute full body massage with a choice of either hot oil, coconut oil or magnesium oil.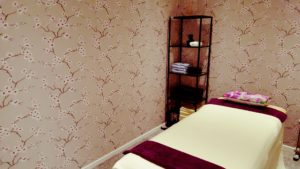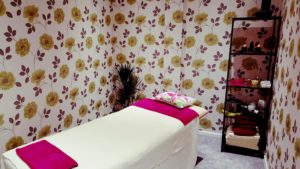 Four Hands Massage | Duration: 60 mins | £75

This treatment is a massage like no other. It is performed by two Thai masseurs and is suitable for individuals and couples and it is truly a mesmerising unique massage experience.

Coconut or Magnesium Oil Option Available | 40 / 90 / 120 mins also available.

Mix 'n' Match Packages | Duration: 90 mins inclusive | £ 60 – 70

If customers can't decide on what they want or they want two indulgent treatments, then this package is perfect for them.

Choose from: Spa Heaven | Stress Workout | Body Buff | Spa Retreat
All treatments come with a dip in our hydrotherapy bath / Jacuzzi and sauna.
What do you love about running a business in the City Centre?
Running a business in the City Centre, particularly in Upper Arthur Street, means that every day is different and I love that. Being located where we are means we attract locals as well as a lot of tourists from all over the world: England, America and South Africa, to name a few. I get to meet people from different backgrounds and cultures and I love getting to know their story and finding out how they discovered us. I also love receiving feedback from tourists and in doing so it has allowed me to get the website translated correctly into Mandarin.
What's next for your business?
The weekends would be our busiest time so we would like to receive the same custom during the week. In order to achieve this we want to start doing a daily special Monday – Thursday which we will advertise on our social media. To treat our customers we want to start giving them a special discount on their birthday so they can treat themselves to a massage.
We are also working with businesses to help raise our profile in the city and working in partnerships with hotels and dream apartments by having the placement of our leaflets in the guest's rooms / apartments which will allow the guests to book with us.
Due to the size of our suite we currently cater for hen and stag parties, but this is something we wish to provide more for. We would like to partner with direct hen and stag party websites or event organisers so these parties can enjoy a pamper session and nurse those hangovers.
* In addition to sparkling wine, you may choose South African cider, rose cava, Famous Grouse Whiskey or tea for two.
For more information check out Orchid Thai Massage & Spa website and like their Facebook page.