16th August 2019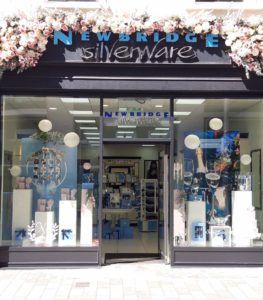 Newbridge Silverware are designers and producers of jewellery and lifestyle products with the history of craftsmanship and contemporary design. The Arthur Street store opened its doors in February 2017 selling a wide selection of products such as, cutlery, jewellery, homeware and baby gifts so there is something for everyone and for every occasion.
Fun fact that you may not have known about Newbridge Silverware:
Newbridge silverware was established in 1934 in Newbridge in County Kildare. They are famous for cutlery, but you may not know that they are still making it to this day in their factory and they are the only fully integrated cutlery making factory in Europe. Using the skills and craftsmanship that they have had over those decades allowed them to expand their product range.
Coming up for Newbridge Silverware:
The staff at the Arthur Street store have a lot to look forward to with new products launching before Christmas and they are always excited about the installation of their Christmas window display. Showing their appreciation towards their customers is key so keep an eye out for competitions in-store and on their social media.
With all the giveaways and fantastic offers its always worthwhile popping in while you're on the street.
Range of products sold in-store