5th April 2019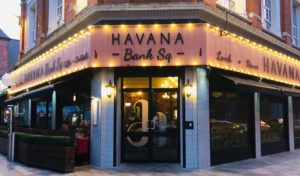 A hidden gem tucked away in Belfast City Centre, the intimate restaurant Havana is sure to give you an amazing dining experience. Serving food sourced in support of local produce 7 days & 6 nights a week & a fresh mix of cocktails (to evoke summer memories), with great & friendly service to top it off.
We recently caught up with Stephanie from Havana to chat about business, Belfast and more.
Q & A with
Stephanie of Havana Bank Square
Tell us how Havana was established?
Havana was established on the concept of a causal dining, family/friendly restaurant. The owners are designers so they own lighting and graphic design companies and they had worked with so many restaurants throughout the UK and Ireland and as a result they wanted to get their teeth stuck into something of their own. The staff are all really local and really want to encourage people to come into the city.
What's your favourite thing about running a business in Belfast?
I really love having a business in Belfast because there is such a tight net innovative business community so it's big enough that there is a lot of opportunities for everyone but small enough that we all know each other, we all support and collaborate with each other.
What tips do you have for people who are visiting our city or haven't been in years?
My number one tip always is to eat and drink around the city as much as you can because the food and beverage industry is full of so much good, local produce. It's such an authentic way to experience the city and the staff and locals are just full of tips of what to do around the local area.
Whats next for Havana?
We have recently just won 'Best in Belfast' at the Food Awards Northern Ireland, so were hoping to get another few this award season and maybe go for Bib Gourmand.
Outside of that we are really piloting getting people back into the city after the Bank Buildings fire – so were doing a lot of lunch offers, for example, if you book a table for 8 or more people the person who booked the table gets their meal for free! This is to also encourage people to get out of the office at lunch time, they're already in the city so come out and support the local businesses.
Havana won 'Best in Belfast' and the Food Awards Northern Ireland.