4th September 2018
Cordoned Area
The cordoned area around the Bank Buildings site has been reduced and will be in place until further notice. There is a map below showing where the outline of the cordon.
There are 14 businesses within the cordon who have been liaising closed with local authorities for updates on the situation.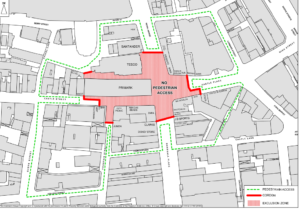 You can view the BCC statement here.
Rates guidance from LPS
Land & Property Services (LPS) is encouraging businesses who have been impacted by the fire in Belfast City Centre to contact them to discuss how LPS can support them through this incident.
During this period, LPS is willing to discuss extended payment arrangements with affected businesses.
Hardship Relief
Ratepayers may also be eligible for the Hardship Relief scheme. This relief is intended to assist businesses who meet the specific conditions to recover from a temporary crisis, financial or otherwise, as a result of exceptional circumstances.
Contacting LPS
Businesses can contact LPS for further advice and information on how to manage their rate commitments as a consequence of the recent fire incident by:
Tel 0300 200 7801 (charged at local rate)
Tel +44 28 9049 5794 (if calling from outside the UK)
Text relay 18011 0300 200 7801
In person at the Belfast Customer Information Centre, Lanyon Plaza, 7 Lanyon Place, Town Parks, Belfast, BT1 3LP
Email applicationbased.raterelief@finance-ni.gov.uk
Visit the LPS here.
Future steps
We recognise the huge impact the fire has had for City Centre businesses and are working with wider City Centre partners to address the issues around signage; promotion to let people know the city is open for business; and more. We will be providing further updates on this in the coming week.