Cities are built and rebuilt by people who love what they stand for.
From all the businesses of BT1, a heartfelt thank you to the shoppers, eaters and drinkers of Belfast and beyond for your continued understanding and support.
We are open for business
For further information on the city-wide #yourbelfast campaign, including the latest offers, visit visitbelfast.com/your-belfast
Yellow Dot Trail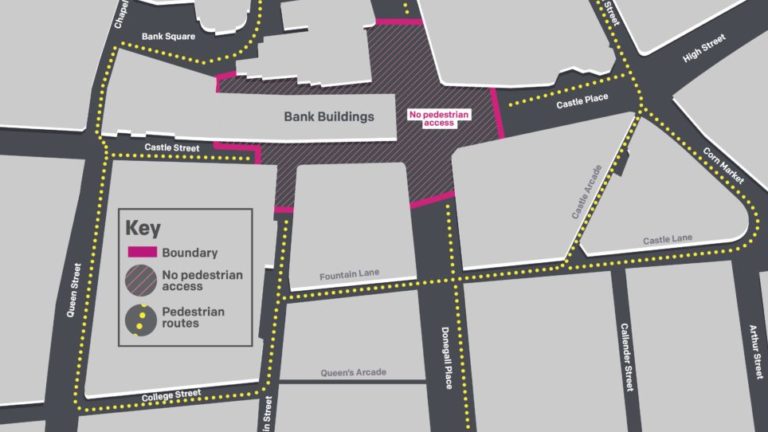 The pink zone marked on the map is currently closed to pedestrians.
The yellow dot trail shows pedestrian routes around the zone, including streets and areas that are accessible.
More info
What's open and what's not?
The following businesses are within the safety cordon, and are currently closed or relocated:
– Primark
– Argento (other premises at 32-34 Ann St) – Abacus Beads
(info@abacusbeads.co.uk or 028 9023 6087)
– Aldo
– British Heart Foundation
– Coffee Kiosk
– City Picnic
– Cookie Box (other premises at 35 Ann St)
– DV8
– McDonald's (nearest McDonald's restaurant, Boucher Road, open 24/7)
– Spar
– Skechers – Tesco
– Zara
The rest of the city centre is open for business as usual for shopping, eating and socialising.
FREE CITY CENTRE & MARKETLINK SHUTTLE BUS
A new, free, City Centre & Marketlink shuttle bus service will operate from 9.00am – 6.40pm Monday – Saturday, and 12.40pm – 6.20pm on Sundays.
It will provide connections between St George's Market and the city centre including City Hall, North Street, Royal Avenue, High Street and Queen's Square.
Car parking
CastleCourt has reduced its car parking charges to £1 an hour for every Saturday and Sunday in September!
View a full list of carparks below.
Translink Metro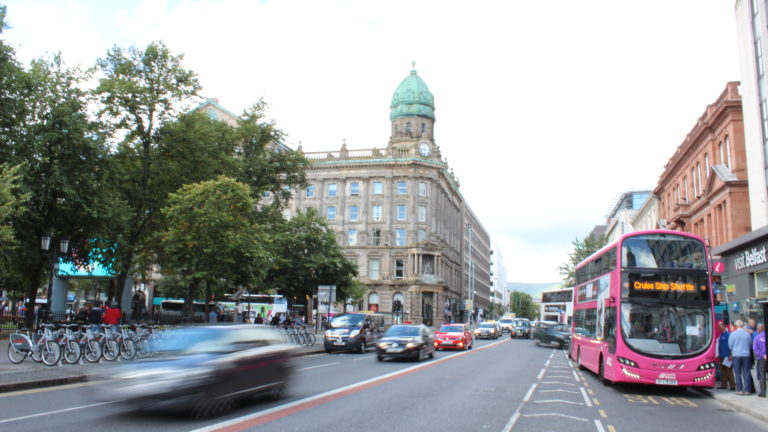 Click below to follow the latest updates from Translink on the Metro bus routes.
More info